Right from the get go, it is clear that the creators behind Ammonite really looked to its predecessor, Portrait of a Lady on Fire for a little (or a lot) of inspiration. From the setting, to the character's traits, the contents of Ammonite all seem a bit, suspiciously, familiar. In comparing the film to Portrait of a Lady on Fire, it's clear that Ammonite is the French film's strange cousin who's trying their hardest to imitate their older relative.
Ammonite takes place in the British area of Lyme, wherein Mary works as a stand out paleontologist, distinguished not only by her skill and knowledge of the field but also by her gender. She has moved on from her more well-known discoveries onto selling fossils to tourists that come through to visit. One day a Mr. Murchison comes along, asking to be brought on one of Mary's excursions to the shore, to work alongside her for a day. She begrudgingly agrees. After spending the day with her, Mr. Murchison decides that his depressed wife needs to get out of the house and needs to do so by accompanying Mary as well. After taking a standoffish trip to the shore with Mary and bathing, briefly, in the cold water, Mrs. Murchison, Charlotte, falls very ill in Mary's care. After taking care of Charlotte, feelings end up developing between the two characters, resulting in a queer love affair between the working woman and the dismal housewife.
Portrait of a Lady on Fire also took a similar approach to portraying a queer, historical romance. The film tells the story of a portrait painter who is tasked with depicting a newly engaged woman who refuses to sit for any artist's efforts. The painter, Marianne, is hired as a "companion" for the mistress Heloise, painting her portrait in secret from memory. As Marianne paints Heloise, the two fall more and more in love, with Marianne capturing Heloise the most accurately in the peak of their romance.
From a very basic perspective, many aspects of this plot align with Ammonite. Both Marianne and Mary assume typically male lead roles, working as independent women in time periods when that autonomy would have been considered abnormal. These working women both fall in love with the helpless queer women who have been forced into heteronormativity by their social contexts. More similarities lie within very basic aspects of the films including both of their use of the ocean in their setting for its romantic and powerful imagery.
Although it is clear that much of Ammonite is similar to Portrait of a Lady on Fire, where the two films differ is exactly wherein Ammonite's flaws lay. Ammonite is like Portrait of a Lady on Fire but crafted to suit a man's world, wherein queer relationships between women are permitted by men and where their autonomy is dictated by patriarchal constructs. From a very literal perspective, Mary and Charlotte's relationship is directly incited by Charlotte's husband's decision to pay Mary a fee to visit with her. Though one might argue that this is not the case, that the women chose for themselves to be romantically involved, there is very little substance in the plot that makes it seem this way: ultimately, the two seem drawn together by their congruent loneliness, rather than by their unbridled passion. The rejection of men in their life seems to guide the two women's choices, much more than their own autonomy does; Charlotte rejects her husband, while Mary rejects the advances of the town doctor. Portrait of a Lady on Fire uses other factors to build the intensity of the leads' romance, other than the rejection of men forcing two women together. Portrait of a Lady on Fire uses the realism and nuance of the queer experience to form the bond that Heloise and Marianne share. The tension, present throughout the film, is the key element of the construction of queer relationships that is lacking from Ammonite and its plot. This explains why critics felt the narrative was dry and the romance missed the mark; Ammonite is completely devoid of the tension that is integral to the buildup of romantic passion.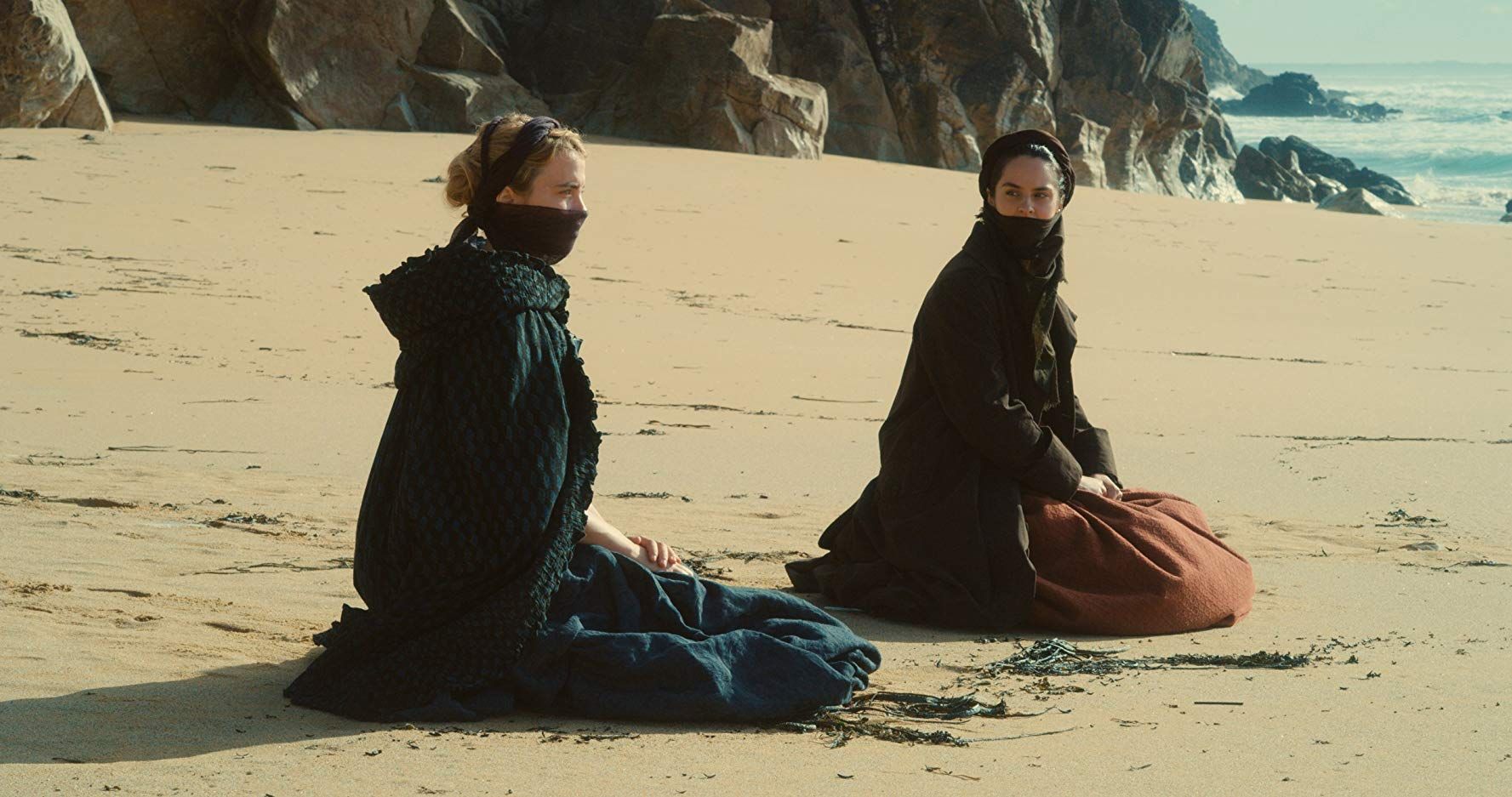 Portrait of a Lady on Fire didn't have this underlying issue, because the film excluded the presence of men all together. Ammonite, on the other hand, seems to almost cater to the men which might be watching it. The sex scenes are explicit and lacking grace, characterizing Mary and Charlotte's relationship as potentially more sexual than romantic, as the two's romantic connection was clearly underdeveloped. These graphic sex scenes were perhaps intended to solidify the feelings blooming between the two women, as the sex scenes did in Portrait of a Lady on Fire but ended up reducing much of their connection to just the physical aspect. This reduction of queerness to its sexual aspects is a crude portrayal of real, complex, and multifaceted relationships. The male gaze skews the way in which queerness is able to be represented, making it more about appealing to a mainstream audience rather than aiming to capture the hearts of the LGBTQ+ community.
Not for lack of trying, Ammonite ultimately failed to secure its place as a memorable and important part of queer cinema. Its representation of queer relationships tries quite obviously hard to emulate the representation seen in Portrait of a Lady on Fire but misses the mark. Instead, the film itself embodies many facets of the male gaze, rendering its portrayal of queerness as catering to the cisgender straight men who watch it. This ultimately defeats the point of queer cinema anyways, which typically works to fight against expectations and against oppressive power structures. One way that Portrait of a Lady on Fire queered cinema was by excluding male roles, which are obviously extremely dominant in Hollywood. Ammonite makes no effort to queer anything and remains a complacent part of the dominant hierarchies of Hollywood and America.