On the 11th hour of the 11th day of the 11th month in 1918, the armistice with Germany went into effect that ended World War I. Fighting was ceased, soldiers laid down their weapons and the Great War was over. This would be known as Armistice Day, a date to never forget. Today, we know it as Veteran's Day. We remember all those who served in the United States Armed Forces and for many, they are our family members. They Shall Not Grow Old is a unique look at World War I as we've never seen it before. Director and co-producer Peter Jackson (Lord of the Rings) takes us to the front lines where we hear from the soldiers themselves and experience what they witnessed over 100 years ago and the result is quite extraordinary.  
I enjoy reading about history, especially if it's something that nobody talks about. World War I is one of those topics. I never learned about this event in school and none of my friends even mention it, all I hear about is World War II. Granted, both wars are very important from a historical standpoint, but personally The Great War is fascinating to read about. It's the first war to involve multiple countries, it introduced chemical warfare, armored vehicles, tanks and trench combat. In fact, what brought me to read about this war was when I played Battlefield I, the video game by Dice, which takes place during WWI. My great-great grandfather fought for the Germans, but died long before I was born for me to ask him about his experience.  
This movie tells us a collection of stories, but not of one person or event. It tells us the accounts of the soldiers who survived and lived to tell their experiences to the world. The movie focuses on the British soldiers fighting the Germans and we get to see what they went through. One thing to note is that this isn't a movie with actors or reenactments of war. We see actual footage that was filmed on location when it was happening. We see the real soldiers, their training, the trenches that they lived in, and the so called "No Man's Land" where the battles took place. There are no names mentioned, no locations named and no dates given. It's about the experiences that these men faced.   
It's starts off in a beautiful black and white presentation and as the soldiers are talking about their experiences, the film then changes to color and boom, we are there. The footage that we see is taken from the Imperial War Museums' archives. Most of this footage has never been seen before. Jackson and his team at WingNut Films have taken over 100 hours of original film footage and 600 hours of interviews with soldiers to bring us an unforgettable experience. This project was started back in 2015. Jackson's own grandfather served in WWI.  
Every soldier that speaks has a different experience but there is a common theme – many men were excited to enlist and serve their country. You had to be between the ages of 19-35 but many of them were actually as young as fifteen! I felt this immense sense of fear while watching the film as I imagined that a lot of these young boys probably never came home. Soldiers talk about rushing the enemy with their bayonets, seeing their friends cut to pieces by gunfire and bodies scattered the field with little hope of getting them back home. The footage also shows numerous soldiers that were shot, blown up by artillery strikes and even some who became infected due to the horrendous condition of the trenches. Dysentery breakout, lice and even cases of gangrene are shown as well. 
Peter Jackson puts us on the front lines in such a way that this experience reminded me of Saving Private Ryan, especially some of the battle sequences. While there are no battle scenes in this movie, as it was too dangerous to film them at the time, there are sound effects that are added to paint a grisly picture in our minds and some of those sounds we hear are terrifying. At times, I felt as if I were on the battlefield and it scared me to think of how the men were feeling at the time.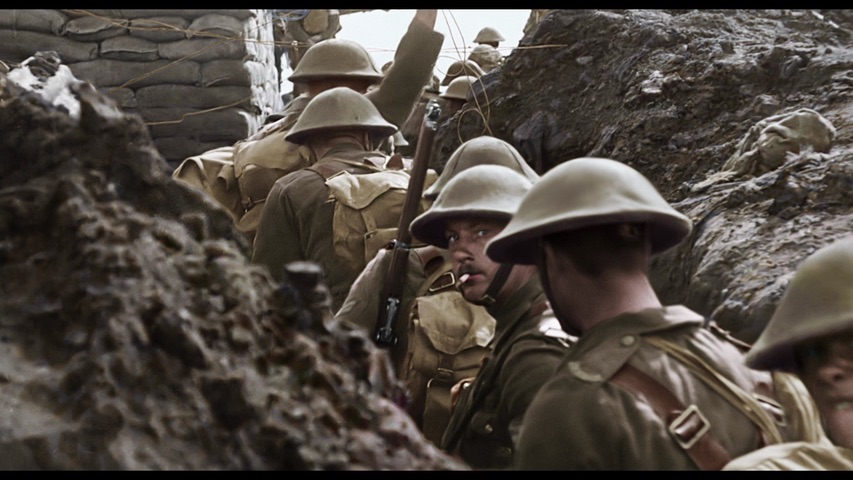 Verdict 5 out of 5 
They Shall Not Grow Old isn't a film to educate you on how and why WWI happened, this is a collection of stories by the soldiers who were there. It looks surreal to the point that you may think it was filmed recently, but it wasn't. The footage is restored with amazing authenticity and Jackson shows us what it was like. It's not pretty, it's terrifying and something that no one should ever go through. This documentary is not meant for entertainment so prepare yourself prior to seeing this picture. It's an unforgettable experience and is such an honor for Jackson to bring this to us for everyone to experience. They Shall Not Grow Old will return to theaters on December 27 and it's one film that you shouldn't miss.