The concept of rebellion has always found a home in cinema, as the film industry itself was built off of revolutionary technology that changed the world forever with its innovation and popularization. Today, the idea of revolution in the United States seems more prominent than ever. After all, we are in the midst of a tight political race fueled by building pressure to replace the feral "republican" who has held our presidency for the last four years. We are also in the midst of a modern-day pandemic, which has left grocery stores raided and forced universities and institutions across the nation to shut down.
In a time so rampant with anarchical energy, let's take a look at several films about revolution that may inspire action or summon empathy for those across the nation who feel displaced, either physically via quarantine or politically by the current federal administration. It's important to remember that, while revolution does look fantastical in on-screen variations, it is still something that American citizens should work toward at this very moment.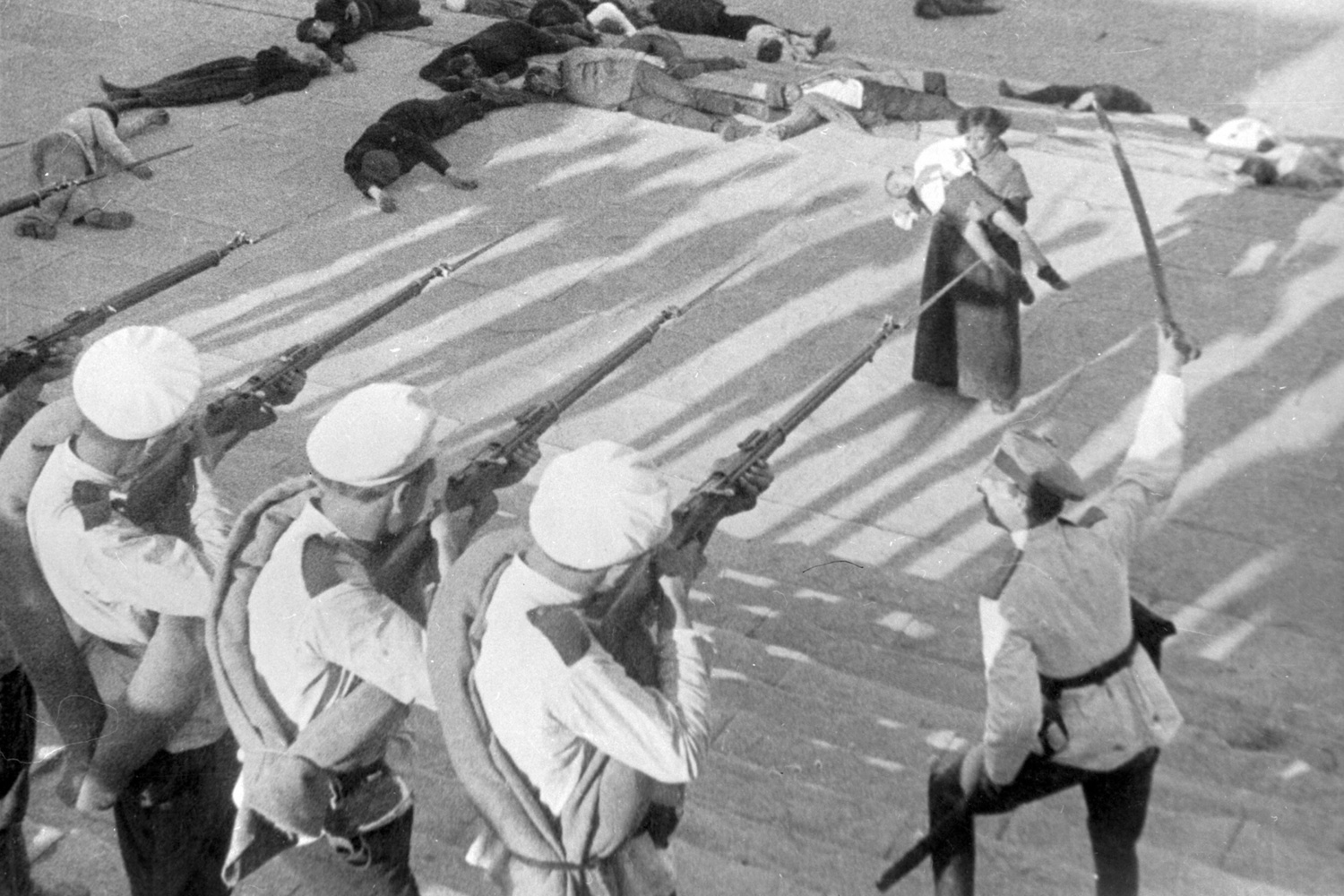 For anyone who has studied film or even looked, briefly, into its history, Battleship Potemkin continuously shows up as an integral piece to the development of film as an artform. Potemkin revolutionized the use of dialectical montage to build up a sense of conflict and chaos among a plot that revolves around mutiny. The crew of a Russian battleship decide to overthrow their superiors due to their terrible treatment on board. The harbor town of Odessa attempts to support the sailors but is met with bloodshed by the Russian government. In the end, the rebellious sailors defeat the military, waving the red flag of the Russian Revolution from their ship.
Despite theorist's heavy focus on the technical and editorial influence this movie had on the development of cinema as art, Battleship Potemkin's narrative is also influential for how it works as a piece of propaganda. The film was created with the intent of being a narrational tool of persuasion for Russian citizens in favor of Communism during the Russian Revolution starting in 1917. It works to emphasize the value of humanity that the Communist Movement held for workers and common people. Even if Communism isn't up your alley (especially if you're American), this is still a must watch for anyone remotely interested in film, especially in regards to the historical significance of Soviet Montage Theory.
Since Potemkin, depictions of revolution in the movie industry have evolved. Period pieces that revolve around historical instances of revolt have always had a place in popular film, with some examples including Reds and Marie Antionette. Marie Antionette (2006) is a colorful telling of the life of a queen who ends up facing the angry protests of the French working class during the French Revolution. She is forced to leave her life of excess and luxury, as rioters storm the Palace of Versailles. Though this film surely acknowledges the flaws of the French royalty and the revolt that ensues because of their frivolous spending habits, its narrative focuses mainly on Marie's navigation of becoming Queen at such a young age. Some, however, may consider this film irresponsible for its played down acknowledgement of tensions in the French political climate, as well as its glorification of an immature, rampant queen.
Another 2006 film, V for Vendetta, takes the cake as possibly the pinnacle of films about revolution against tyranny. Based on the Alan Moore comic of the same title, the film is set in a dystopia England, that resembles, quite startlingly, aspects of modern reality. The plot focuses on the vigilante "V", who destroys a government building and hacks a broadcast to encourage the citizens of England to join him in a year's time to rid the country of their corrupt Parliament, run by the despot in the position of High Chancellor (ironically played by 1984's John Hurt). The backstory of Chancellor Sutler's acquisition of power might disturb viewers in its overwhelming relevance to modern events, in which we learn how the Norsefire Party released a virus into the British population and blamed it on a terrorist organization. Using these fear mongering techniques, Sutler took advantage of the mass' hysteria to win his election in a landslide and adopt the position of High Chancellor, thus beginning a fascist rule. It's definitely a jump into conspiracy that aligns this plot line with current events, but the similarities are still quite interesting to examine, especially as election season approaches.
Taking on revolution from a feminist perspective, Assassination Nation is female-led and takes a heavy influence from The Purge film series. Four teenage girls become the target of a town's overwhelming male rage, as a hacker exposes dirt on various people in the town, including the closeted mayor. The girls are blamed for this data leak and suddenly have an angry mob of men hunting them down in their small town of Salem. By some miracle, they are able to escape and defeat all of their male assailants and prove their innocence. The four leading girls are met with other women from across town who are also dedicated to fight against the unjust blame placed on them by unfair gender norms.This film is much less of an institutional revolt, as it is a rebellion against the systemic power dynamic of the patriarchy.
Another film deserving of mention is 2018's Sorry to Bother You, which critiques capitalism and builds a commentary on how race plays into the economic system. Protagonist Cassius "Cash" Green (Lakeith Stanfield) becomes disillusioned by his success at work, only to find himself joining the status of the corporate higher-ups he once despised. In his growing success Cash loses friends and his girlfriend as he becomes close with the company's bizarrely wealthy owner, who has plans to revolutionize the working class through biological mutation. While framed in the context of a quirky, somewhat comical film, the themes and concepts brought up in Sorry to Bother You are eerily familiar in their portrayal of late stage capitalism. It is potent will make any viewer ask the disturbing question, "where does corporate greed draw the line?"
Many people seem to forget, thanks in part to Hollywood narratives, that every citizen of the United States has the power to change the future in a practical, attainable way. Whether it's a rebellion against an official establishment or destructive ideologies, revolution narratives should work to inspire people right now to stand up for what they believe in. Most films in this category emphasize the importance of human rights, regardless of what perspective the movie is coming from. Breaking the status quo does not always need to be violent or chaotic; viewers can choose the way in which they desire change to manifest in the United States, especially by exercising their right to vote in the upcoming primaries and the November Presidential election. Every voice matters, especially when it is calling out for a betterment of lives everywhere.
Register to vote, or explore your resources at the following link: https://vote.gov.