All good things must come to an end, and with the sad news that Donnie Yen is retiring his character of Ip Man, we can surely thank him for the explosive fun he's brought to a surprisingly successful series of action films. The Ip Man franchise not only provided fantastically choreographed action sequences, but also poignant narratives that were both involving and memorable. As Yen's fourth and final entry, this is the conclusion to the Ip Man saga and, as finales go, I probably wanted more out of this film. That isn't to say there aren't some good moments to enjoy.
We begin in 1964, where a couple of new details are revealed about the titular character's life. Ip Man's (Donnie Yen) wife has died and the master himself has been diagnosed with cancer which is due to his habit of smoking. His son Ip Ching (Jim Liu) has been expelled from his school from fighting which leads Ip Man travels to San Francisco to find a school for his son, partially because his most memorable student Bruce Lee (Dany Chan) has set up a school that teaches Wing Chun. Upon arriving to San Francisco, Ip Man learns that most of the schools in the area require a letter of recommendation for any child to be accepted into their respective program. This leads him to meet Wan Zong-hua (Wu Yue) the chairman of the Chinese Benevolent Association, or CBA for short.
Wan Zong-hua can offer the letter of recommendation to Ip Man but, under certain conditions. There are rules that this Association expects from its students, some of which Ip Man doesn't agree to. As a side note, there's a subplot that involves the teaching of martial arts in the military, which brings us scene after scene that showcases the racist and bigotry views of several trainees. This subplot also feature several younger students at a nearby school which also features into another plot of its own. Personally, I felt there were too many storylines to follow in Ip Man 4, causing the film to feel bloated at times.
While the plot may feel at bit too much, Ip Man fans are here to watch the fight scenes and this movie still has some good ones. We get a nice sparring match, several challenges along the way and one heck of a brutal fight to conclude the story. While I enjoyed a lot of these moments, for some reason Ip Man only fighting for a certain number of scenes. We get several instances of other people showcasing their fighting skills, but it seemed to me that the movie was leaving out Ip Man for a good while, which could frustrate franchise fans anticipating the master's arrival. It's only a minor complaint but I recall seeing more of Donnie Yen fighting in the previous entries more often than this entry.
One thing to mention is Ip Man 4's presentation. Yes, the fight scenes are jaw-dropping and the choreography is wonderful, but they don't seem to match the previous entries in their glory. I like mid-1960s look of the movie, especially its clothing, and appreciated how it captured the cruelty and racism that Chinese endured and grown accustomed to in America, even if it feels pervasive at times. Most of this racist talk comes from U.S. Marine Corps Gunnery Sargent Barton Geddes (Scott Adkins). Try remembering that name! Geddes serves as a competent and nasty villain, though I think Adkins overplays his character to the point of annoyance. The acting style really put me off and I'm not sure if this was intentional or proves that fighters have a tough time acting, but I think the latter part is more accurate in his case.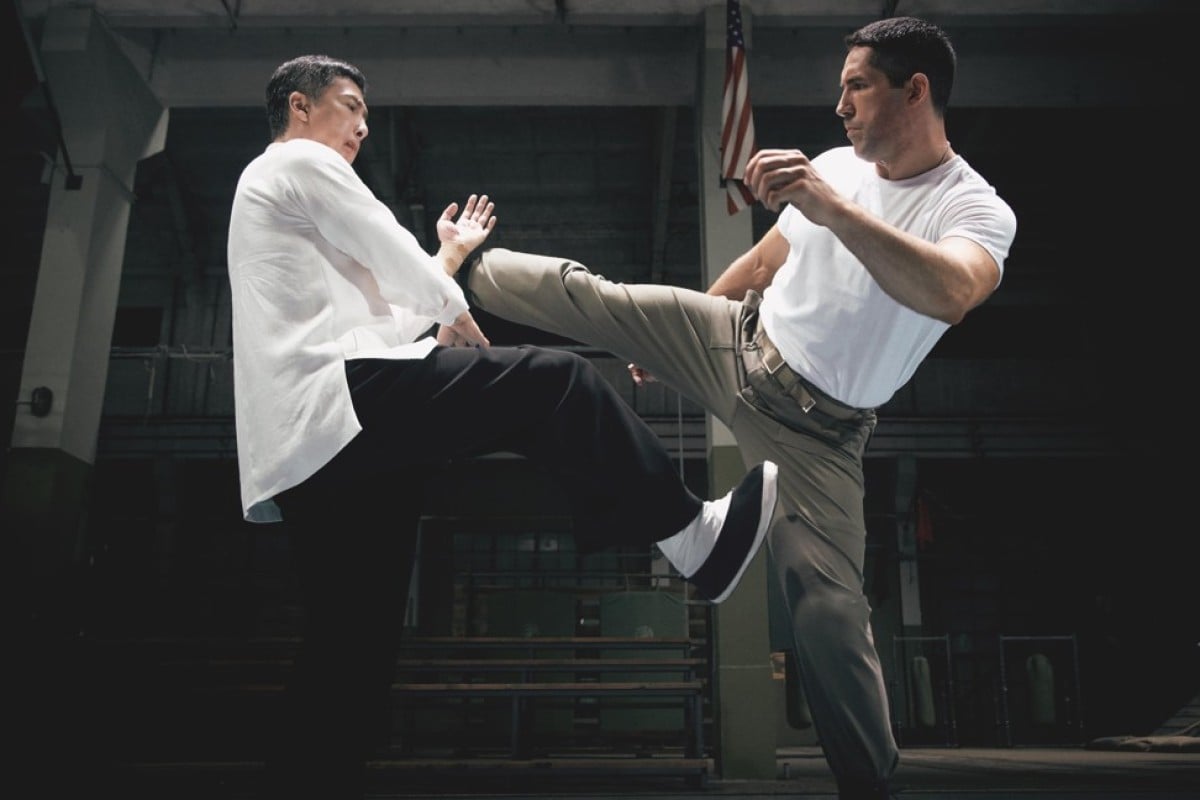 Wilson Yip returned to direct this franchise and does well, but sadly the script feels too bloated to be any fun or the least bit engaging. Nevertheless, I was entertained to a certain point with Ip Man 4 and, at the very least, I walked away remembering this one's plot over the third entry that featured Mike Tyson. Outside of that fight, does anyone else have trouble recalling that one?
Verdict: 3 out of 5 Stars
Ip Man 4: The Finale is a decent conclusion to this beloved action franchise. I enjoyed the presentation and some of the action sequences but overall nothing really struck me deep while viewing it. I liked seeing Bruce Lee in the film and was curious as to why there weren't more scenes with him and his teacher of Wing Chun. The first two entries are still my favorite and, while I'm sad to see this franchise end, I only wished it would've gone out with a little more fire.
In short, Ip Man 4 is passable as an action movie but true fans of this franchise may be left feeling as if something more exciting had happened, instead of what was delivered.