He's the King of all Monsters and we all know his name…Godzilla.  
It's been nearly five years since we've seen the King destroy San Francisco and since then the world has become aware of the "Titans". They are the creatures who lived long ago and ruled the Earth before humans ever lived and are starting to return to the surface. While a lot of people enjoyed Gareth Evan's Godzilla, I wasn't a fan. It focused too much on a human story and not enough of the title character. This new sequel delivers on epic battles, carnage and destruction but is it enough to make this Godzilla the movie worth seeing?  
Following the devastating events from Godzilla, the world has forever changed. People all over the world are aware that monsters exist and it's only a question to determine which are the enemy and who is here to protect us. Godzilla has been missing for five years as well, not a trace of him has been seen. Governments worldwide must make a decision on what to do with the Titans that have been discovered on every continent. Do we keep them alive or kill them?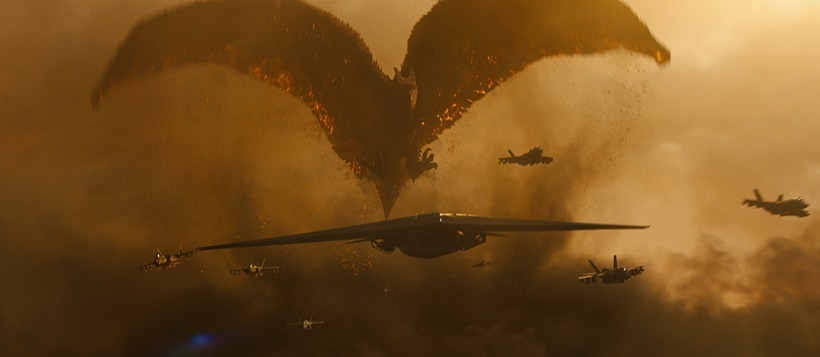 Dr. Emma Russell (Vera Famiga) is a paleobotanist who helped developed "Orca," a device capable of communicating with the Titans via bioacoustics and sonar. It can be used to control them or manipulate them for not so altruistic purposes. So far, the Titans aren't causing any trouble. In fact, Dr. Russell witnesses the birth of such a Titan named "Mothra". She's joined an organization known "Monarch" which acts as a S.H.I.E.L.D-like research and development program that specializes in studying Titans. While I won't go any further on the plot details, all I'll say is that a decision is made which releases all the Titans who begin to wreak havoc on the planet. Billions of lives are at stake, raising King of the Monsters' central theme about Earth's salvation and the infection of the human species. If life can start over, then the human species can be saved. Cut to the monster vs. monster action. 
You don't have to wait long to see Godzilla this time around and he does have a good amount of screen time. He breathes his blue fire, whips his tail around and roars loudly enough that buildings shake. If you're looking for a monster movie with a lot of monster action, then you'll get plenty of fights. The special effects are very good here and are quite impressive but, while watching the Titans duke it out, I became immensely bored. The plot is very thin and the majority of human characters are largely underdeveloped. For me, it was like watching the recent Transformers movies directed by Michael Bay, a lot of action on the screen but no heart behind the camera.  
The movie does include a fantastic cast which includes Kyle Chandler, Millie Bobby Brown, O'Shea Jackson, David Strathairn and even Sally Hawkins and Ken Watanabe (both of whom reprise their roles from Godzilla). They all do great work with the script they're given but it amounts to a movie that feels overstuffed, too long, and not exciting enough to be a wonderful piece of summer entertainment. Despite the special effects, the monster fights and the city of Boston (not Tokyo this time) getting demolished, there was nothing that impressed me. Of course, I have to mention that Godzilla, Mothra, Rodan and King Ghidorah all make an appearance and yes, they are awesome to see on the Big Screen again, but it's the script that makes Godzilla King of the Monsters feel like a huge dud.  
Verdict 2 out of 5 
I will say that this is an improvement over the 2014 film, but that isn't saying much. If you want a lot of monster fighting action, then this is the movie to see. The script is very thin and normally I wouldn't mind, but as the film progressed it became boring to sit through. The characters aren't fully developed like they were in the previous film which had a good beginning ,whereas this film puts action first at the expense of a  story that feels dumb, lame and quite lackluster.
While King Kong is slated to return in the next installment, I surely hope that the filmmakers (especially Director Michael Dougherty) can develop a story that involves lots of CGI but also a script that feels engaging and entertaining. King of the Monsters lacks in everything except mindless action that's meant to be eye-candy for the audience. To put it simply, I was ready to go to sleep after screening this film, and Godzilla should leave you excited when leaving the theater.