Edgar Wright, director of Last Night in Soho, paints an entrancing world in London, England that is vivid, glamorous and yet, incredibly unsuspecting. The psychological thriller is claimed to be one of Wright's most exciting films to date and it does not fail to live up to the expectation.
Thomasin McKenzie leads the film as Eloise, an ambitious and aspiring fashion designer, who chases her dreams to the big city. While struggling to acclimate to the cultural shock, she finds escape in immersive dreams. In these dreams she becomes one with an aspiring nightclub singer, Sandie, played by Anya Taylor-Joy, who pursues a relationship with her charming manager, Jack, played by Matt Smith.      
Last Night in Soho is visually enthralling and showcases amazing cinematography, editing, and composing. Through these aspects of filmmaking, the film creates a world that draws audiences in and captivates attention. 
The cinematography is most notable in the film's visionary dream-like sequences of 1960s London. The images presented portray city life in a dazzling glow, illuminated by the consistent use of bright neon lights. This visual choice begins with the appeal to that of a bright eyed-naive individual who sees the city lights as being a symbol of opportunity, success, and fame. Billboards, spotlights, and marquees serve as this motif throughout the film.
However, the use of lighting experiences a dramatic shift in meaning that is impactful. When the idealized image of 1960s London begins to unravel, so does the lighting. What once served as a promising symbol of prosperity evolves into a symbol of deviance and corruption. The lights become a perverted casted shadow of the big city's underworld. This tone shift gives off the false glitz of sleazy bars and nightclubs. While aiding in the development of the plot, this visual element of lighting is pivotal to the film's overall evolution.
Last Night in Soho showcases beautifully clean and mind-bending editing. To achieve the transcendent air of Eloise's dreams, mirrors, and reflections are used stylishly throughout the film. The visually paralleled images of Eloise and Sandie work effectively to create a relationship between the two despite it being completely one-sided with Eloise being an observer of Sandie's past, much like a one-sided mirror. The boundary between past and reality is also visualized through this reflective imagery. In one scene, Eloise pounds at the mirror in an attempt to get through to Sandie. With the magic of movie editing, the mirror ends up breaking, this action serves to figuratively and literally break down the wall of Eloise's reality from Sandie's.
Last Night in Soho manages to create tantalizing visuals from edits that never take away or distract from the story, but rather satisfyingly add to the magic of the thrilling fantasy.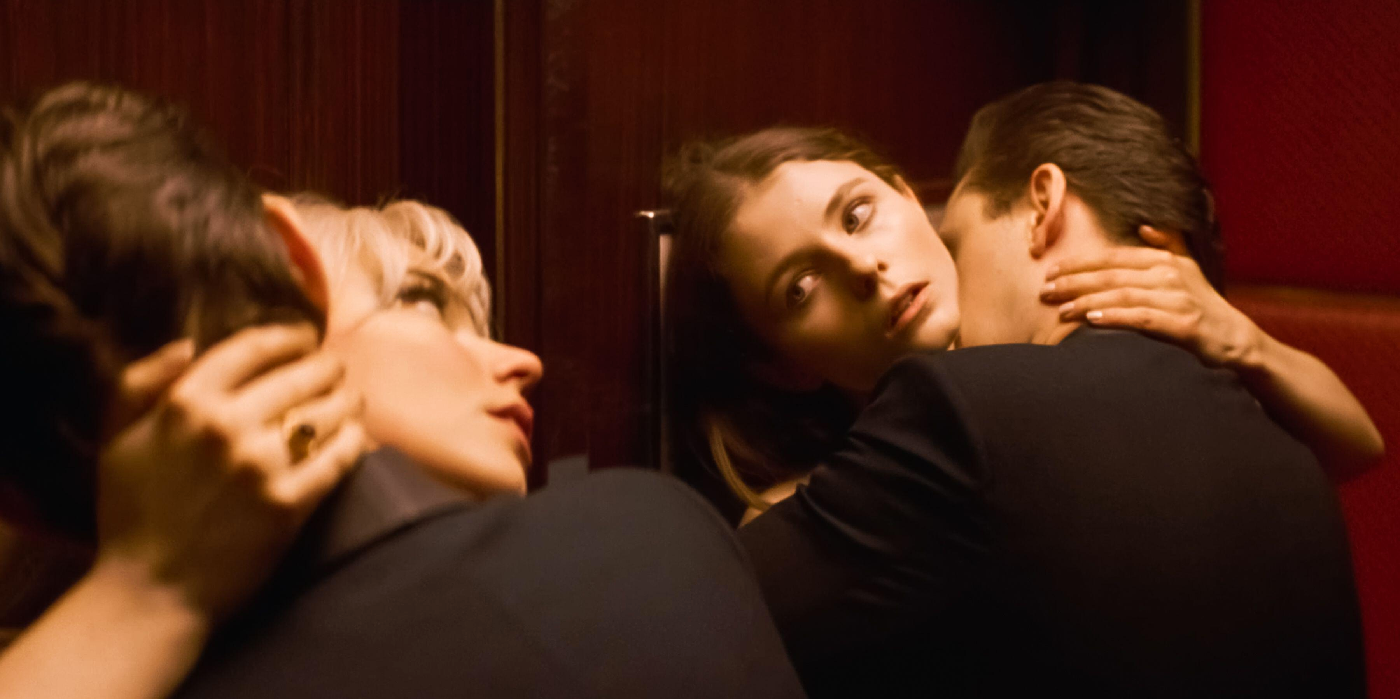 The soundtrack of the film was notably great at developing tone throughout the story. In some cases, the music directs a clear dance and rhythm to the movie that enhances the experience and dictates the pacing of scenes. It also laid out the setting nicely with its immersive 1960s songs. Anya Taylor-Joy sings a cover of Petula Clark's "Downtown" on the soundtrack and does so with ease. The actress' singing performance adds an authentic and valuable aspect to her character. Edgar Wright creates a visual experience where the music is more functional than simply being in the background.    
The heart of the film is stolen by none other than the two leading ladies, Thomasin McKenzie and Anya Taylor-Joy. Thomasin McKenzie plays Eloise with inseparable convincingness. She harnesses the powerful driving force of naivety, hope, and excitement that is honest and precise. As her dreams become blurred with reality, McKenzie is able to capture the mental horror of being trapped alone in her own living nightmare. Eloise is a character that the audience has exceeding empathy for, which is largely in part to McKenzie's compelling performance. Anya Taylor-Joy gives a fluid and confident performance in her portrayal of Sandie. Despite being a mere memory, Sandie manages to steal the show in many instances because of Anya Taylor-Joy's convincing and captivating acting. 
While being an overall enjoyable film, the climax left much to be desired. To keep it simple, the film slowly evolved into a classic horror film with slasher cliches and a shocking, yet unsatisfying twist at the end. The concept was amazing, yet the execution was not hitting the mark.    
Last Night in Soho is truly a mesmerizing journey that keeps the audience on the edge of their seats, constantly asking what will happen next. Edgar Wright leads audiences through a maze of mystery that is full of twists, turns, and dead ends. Anya Taylor-Joy and Thomsin McKenzie portray strong, believable female leads that are both empowering and easy to empathize with. While the end leaves much to be desired, the film as a whole is a masterpiece with great aspects of storytelling at play.
This film is best suited for those with a liking towards thrilling and provocative storylines and an appreciation for innovative storytelling. This film is one of a kind and is most definitely worth a watch, so be prepared to strap in for the electrifying ride that is Last Night in Soho.  
4/5 stars