What does it mean to be a Christian? Does it involve following the teachings of the good book? Preaching the name of God and accepting Jesus as your one true savior? Or is it that we all gather in a special room once a week to compare clothing? Ok, that last part was said by the iconic comedian George Carlin, but I digress. Pulling off a good satire is challenging, but it all depends on the angle the filmmakers aim for when making their movie. Honk For Jesus. Save Your Soul is a movie examining the lives of two pastors trying to pick up the pieces after a scandal has rocked their world. It perfectly encompasses the idea of megachurch pastors and lets us view them for who they are. While the movie may not be the most impressionable film regarding traditional satire, it is quite a character study. 
The movie takes place in Atlanta, Georgia, where a once-popular Southern Baptist Megachurch has collapsed since the scandal's fallout that forced most of the congregation to find another place of worship. The megachurch hasn't literally collapsed, but the twenty-five thousand congregants have now been reduced to only five people! That's bad for business and not a good look when trying to rebuild yourselves. 
The movie is told from a documentary perspective where the two pastors have hired a notable filmmaker named Anita to film them. This documentary is supposed to show who these pastors really are; by the time the cameras are done rolling, they will be seen in a new light. The pastors are a husband-and-wife duo named Lee-Curtis Childs (Sterling K. Brown) and Trinitie Childs (Regina Hall). They both have faith that one day everything will be back to the way it was. The glory, the fame, and the attention they seek from their devout followers. 
While the documentary crew isn't there to interview them, nor do they speak, they are there to document the pastors' movements and allow the audience into their personal lives. The movie swaps framerate occasionally to let us know when the documentary crew isn't there. If you know anything about the history of scandals that have plagued organized religion, then you'll probably have guessed what the pastors are accused of. We don't see any courtroom appearances, law enforcement, or anything related to their legal troubles. Instead, it's mostly alluded to. The movie takes its time to slowly peel back the layers of these pastors.  
What's evident is the mindset of these pastors. They spend their days proudly showing off their massive mansion, Prada suits that cost more than I make in a month, luxury vehicles that most of us wish we could own, and allowing their faith to lead them astray. They are under the impression that the documentary crew is on their side, not realizing that the crew is well aware of the allegations they are facing! As we follow this couple, we begin to see how not only their church works but also their marriage.  
Pastor Lee-Curtis is infatuated with himself, his physique, and the prosperity of regaining his status in the local community. Trinitie, on the other hand, is at her husband's side and passively accepts his bidding to make them popular again. She spends her days buying unbelievably expensive hats, listening to her husband boast about his prospects, and reveling in the idea of another church that has absorbed their beloved followers who are planning to open their church on Easter Sunday, the same day that these pastors plan to! How dare they infringe on our plans? There's even a moment when Trinitie spots a former congregant at the mall, and while they engage in idle chit-chat, we can sense that the lady isn't so happy to see her former pastor.  
Pastor Lee-Curtis and Trinitie perfectly exemplify this country's megachurch pastors. They flaunt their wealth, have absolved themselves of wrongdoing, and are blinded by their own greed. What impressed me most with this film is how it slowly opens the door to understanding these people and allows us to study them right from the start. The film also doesn't take cheap shots at the church, even if the plot elements are familiar, especially if you recall the endless stories of church-related scandals. I appreciated the direction and script by Adamma Ebo in her debut. This is her first feature film, and she's created these characters who feel so authentic that sometimes we just want to strangle them.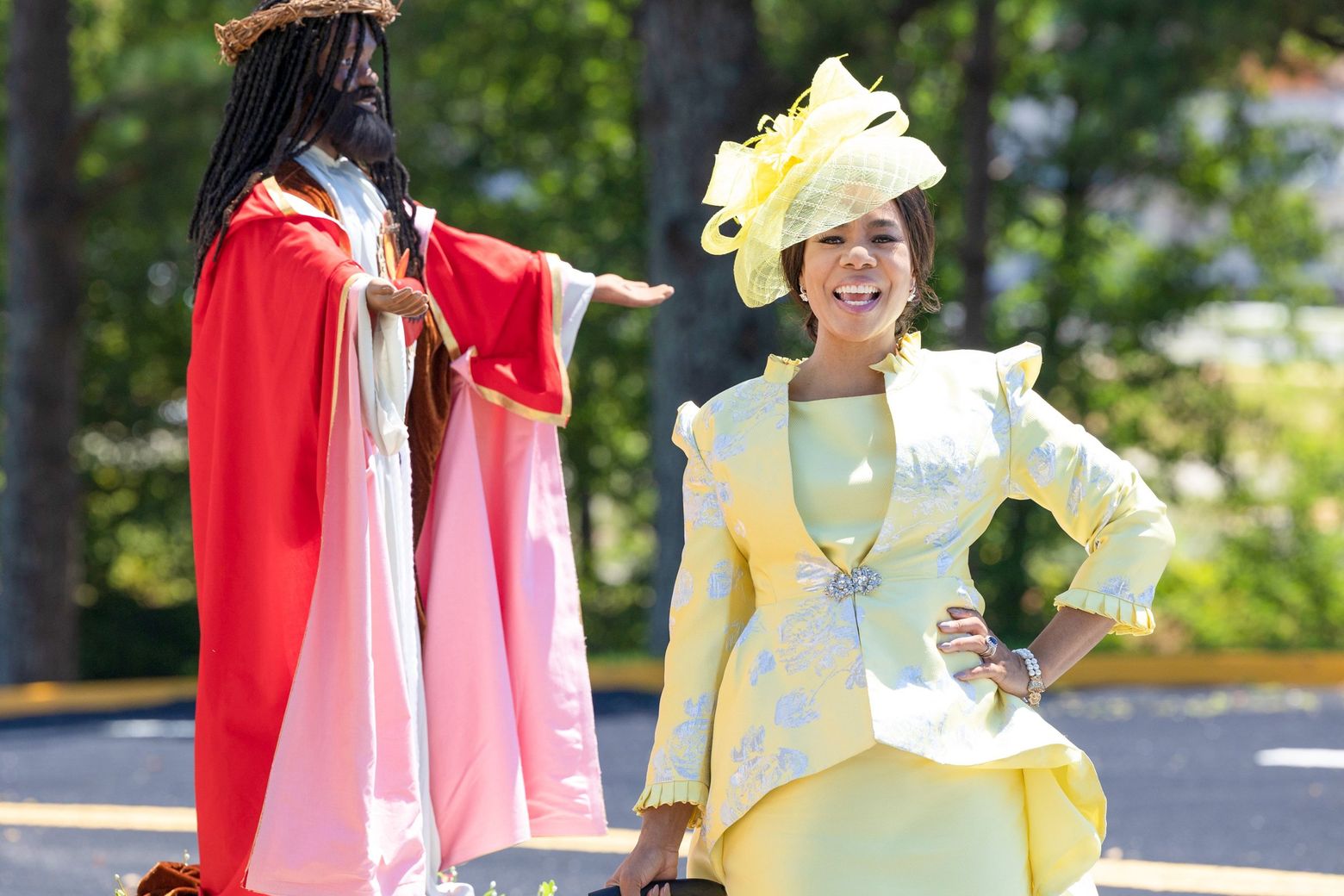 In terms of satire, the movie isn't quite as gut-busting funny as one could suspect, even though I was laughing quite a bit. This is more mockumentary as we mainly follow these two pastors' lives. As far as we know, these pastors have no friends, are isolated from their community, and don't appear keen on social media. When things get desperate, Trinitie makes signs that say "Honk For Jesus" in an attempt to get passersby to join their church. While several vehicles honk their horns, Trinitie is unaware that those cars are honking for entirely different reasons.  
Aside from following these religious figures, both Lee-Curtis and Trinitie aren't in a happy marriage as outsiders would see it. They are devoted to their church but held together by their faith. They aren't even intimate with each other during a scene where Lee-Curtis cannot perform sexually, no matter how hard he tries. Outside of that, they have no individual identity. Lee-Curtis is self-absorbed with himself, while Trinitie is stuck in a traditional marriage. However, we get glimpses that she knows the truth but is physically unable to allow that truth to become a reality.  
Will they achieve success? Will those former congregants return with open arms? The clock is ticking, and despite all the bad press and having their reputations tarnished, these pastors are looking to make a comeback of biblical proportions! Only time will tell to see if their faith will lead them down this path.  
Score 4.5 out of 5 
With a memorable and ironic title, Honk For Jesus. Save Your Soul is a fantastic character study of a movie that blends satire, even if it isn't as funny as you might expect. Both Brown and Hall are excellent in their performances, and neither tops each other. I can positively say that I was impressed with this film and how writer/director Adamma Ebo tries to be different here. We sit back and watch the unraveling and witness these characters display their flaws even if they aren't aware of the reaction from the outside.  
The script is very good, and the movie allows the actors to fully sink into their characters. It's a good-looking film and is flashy at just the appropriate moments. While it mocks organized religion, it does so in the most authentic way possible by having us watch what's in front of us. Amen!