Right from the get-go, it's obvious that Emma (2020) is a retelling of the classical Jane Austen novel, but with a twist: it has style. The film's aesthetic appeal is obvious from its beautiful soft lighting, copious use of pastels, and fashionable costuming. As one continues watching- especially anyone particularly enchanted by 90s "chick flicks"- there are obvious parallels between Emma and the plot of Clueless. In fact, the plot points run so parallel that the 1995 film's narrative is undoubtedly based upon the Austen's novel. However, the newly released Emma puts a spin on the traditional telling of the tale, as Cher and Emma seem more closely related than ever.
The two movies have pretty much the same premise, following a blonde, upper-class and totally trendy woman take a plainer, less sparkling girl under her wing and attempt to play matchmaker. In fact, the main goal of Cher or Emma's matchmaking endeavor is to set up a man named Elton with her underdog friend, retaining the namesake in both stories. The lead's relationship with her mentee is equally similar, but also has distinctive differences. In Emma, the lead's doe-eyed counterpart, Harriet, embodies the very same naivety and initial innocence that Tai exhibits in Clueless.
Just like Clueless, Emma's dad is a high-profile, single man who has clearly accumulated a substantive amount of wealth, based upon his daughters' extensive wardrobe, elegant mansion, and quirky affinity for copious screens to block the prominent draft in his countryside home. Paul Rudd manifests not as Emma's ex step-brother but rather a childhood boy-next-door who's always felt like a brother to her named Mr. Knightly. The twists and turns of their relationship, as well as his relationship with Harriet, exactly mimics that of Rudd's relationship with Cher and Tai in Clueless, though ending in less cattiness between the two female friends. This lack of temporary animosity between Emma and Harriet is what sets their relationship apart from Cher and Tai's.
In Clueless, the relationship between Tai and Cher is much more contentious, as Tai rises in popularity at school and makes her own friends. She has an angry and resentful outburst which causes a rift in the two's relationship, whereas in Emma, there is much less anger between the lead and her mate, and when conflict does arise in their relationship, it manifests as sadness or rejection instead. In this way, the relationship between Clueless' mentor and mentee is perhaps more modernized and tuned into the contextual politics of attending high school in Beverly Hills, rather than courting young men in 1800s England.
Most notably, the aesthetic of Emma cements it as a congruent film to Clueless. Both films are stylized in a girly fashion, although in very different ways. Clueless takes on the pompous glitz of mid 90s California, with Cher sporting looks that feature fuzzy linings, plaid, and lots of pink. Emma uses equally extravagant style choices, with main actress Anya Taylor-Joy sporting various colorful, detailed gowns that sometime change even multiple times a day. Her costume often includes cropped, waistcoat-like corsets over her long flowing gowns, which are structurally reminiscent of cropped shirts which dominated 1990s trends.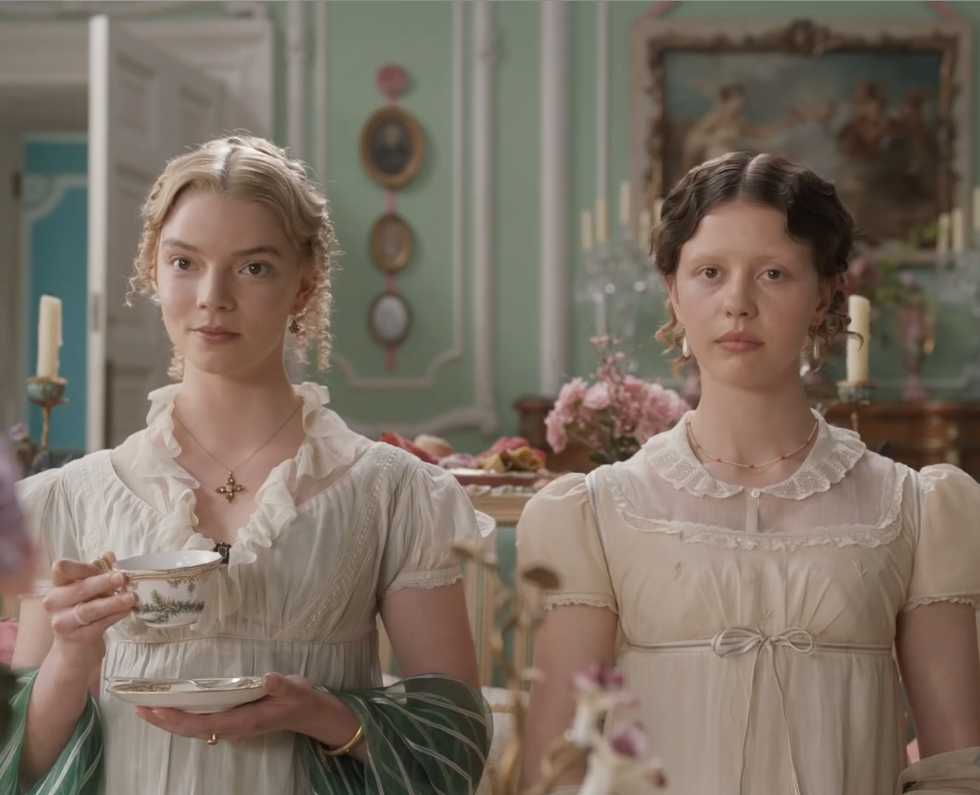 Interestingly enough, Emma is depicted on the film's poster in an all yellow ensemble, and Cher's most iconic outfit is also a monochrome yellow fit comprised of a tartan blazer and skirt set. Emma's platinum blonde (though assumingely natural) hair is the cherry on top of her similarities with Clueless' Cher, whose locks are immaculately highlighted a bleach blond. The two not only share obvious stylistic characteristics, but are also distinguished by their well-meaning uppity attitudes, propagated by their privileged upbringings. Both women care obviously for those around them but are also depicted as flawed, specifically when their arrogance gets in the way of good intentions. The shot compositions also add to this stylization, as Emma and Cher are framed in a visually pleasing way so that the settings seem to match up to the characters within them. This quality is also evident in Clueless, which frames Cher, Tai, and Dionne routinely in picture-perfect scenes.
Dionne herself is the biggest missing piece in Emma, as Emma only has a Tai-equivalent in Harriet, and no other trusted female friends. The relationship between Emma and Harriet is a more supportive and dimensional one than the friendship between Cher and Tai, which makes it embody female empowerment a bit more powerfully. However, Emma could have benefitted from another strong female friendship in her life, as the only other young woman in the plot, Jane Fairfax, serves as Emma's competition for young Mr. Churchill's affection.
Many of the characters in Emma, despite its obvious focus on female companionship, are male, and it creates the impression that a woman's life directly revolves around their heterosexual romantic interests. In Clueless, despite romance being a focus, Cher notably goes through a process of self-evaluation throughout the plot like Emma. However, Emma's is motivated by her cruelness to another woman, whereas Cher is perceivably more self-motivated after she fails a driving test and is berated by Tai.
Emma and Clueless, despite their distinctly different time periods and aesthetic choices, have undeniable similarities and Emma's new remake sets the two narratives even more closely together. Cher and Emma both attempt to navigate the complicated relationships that become present in their lives as they grow to the age where their love lives are forefront priorities. The two movies are charming in their own ways and anyone who is a fan of Clueless will enjoy Emma's 2020 remake, and vice versa.