The first joke in What We Do in the Shadows, a toothy, small-scaled bit a silliness from writers/directors Taika Waititi (Eagle vs. Shark) and Jemaine Clement (Flight of the Concords), takes place about a second into the film when a vanity card for the "New Zealand Documentary Board" comes on screen. There's no such thing. What follows is ominous scroll about an annual masquerade ball held each year in New Zealand, the social event of the year for spooky underground types: vampires, zombies and the like. As such, a group of unseen documentary filmmakers have been given full access to film a clan of undead pals and flat mates in the months ahead of the ball. For safety, the documentarians wear crucifixes around their necks.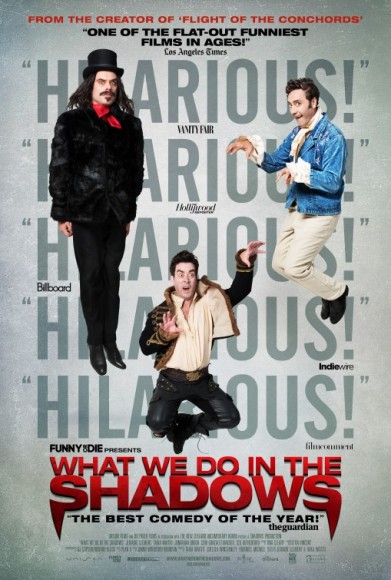 Waitati and Clement, both wearing multiple hats as directors, writers, and stars of the movie, posit What We Do in the Shadows as a mockumentary, following four undead friends who share a rustic home in Wellington, New Zealand. They are Viago (Waititi), a 379-year-old transplant from Europe; former European torturer Vladislav (Clement), aged 862, who in his glory days was referred to as "Vlad the Poker;" Deacon (Jonathan Brugh), aged 183, the moody baby of the clan; and Petyr (Ben Fransham), aged 8,000, an ancient frightener in the Nosferatu mold. As a conceit and in execution, What We Do in the Shadows falls on the scale somewhere in between Rob Reiner's 1984 fully committed heavy metal romp This Is Spinal Tap and the lets-get-all-our-buds-together extended Funny or Die sketch that was This Is the End. Which for a comedy with cult-wave aspirations isn't a bad place to be.
At a slim eighty-seven minutes, the movie does its best to not out-stay its welcome and mostly succeeds thanks to the top gamesmanship of the performers and hundreds of little out-there beats and sight gags. Viago, awaking from his coffin show-boating and camera ready, gives the crew a tour of the house and an introduction to his mates – there's a sense that Viago is the star of a reality show trying not to let it show that he's rehearsed this "script" a million times before the documentary crew arrived. His roommates aren't nearly as ingratiating – Vlad, for instance, is in the middle of a sexual act that would scare the Fifty Shades of Grey set. What follows is a flatmate meeting where squabbles abound over everything from dirty dishes to the persistence of blood-sucking done on Viago's vintage furniture. Character bits abound, like Viago's dandy-ish nature and the melancholy century-old romance that forever defined him, Vladislav's alpha-male ego, damaged long ago by his epic defeat from "The Beast," and Deacon's intensity – he's a vampire, but he's also a Nazi. (Petyr is left alone to his own devices.) It all moves along nicely even though there's not much of a plot.
The little true narrative there is involves the introduction of Nick (Cori Gonzalez-Macuer), a human brought to the house as meal who is unintentionally turned into a vampire. This is where the energy and spiky tone of the film's earlier bits gets trimmed a bit, not because Gonzalez-Macuer is uncommitted to his part as vampire neophyte, but because the film never fully invests in him as a character. For instance, Nick's presence is hindered by the introduction of his mortal friend Stu (Stuart Rutherfold), a Joe Schmo-type who is preferred by the vampire clan. Even more distracting, I wish the movie had spent a bit more developing and capitalizing on a plot thread involving single mother Jackie (Jackie van Beek), Deacon's human handler and devotee. Jackie caters to Deacon and the clan in all sorts of humiliating ways (such as cleaning blood-soaked rooms and gathering victims) in the efforts of one day being turned herself, a promise Deacon has little interest in following through on. The oddness of her story and deadpan rhythms of van Beek's playful performance seemed to gel with the overall tone of the movie a lot better than any bits centering on Nick.
Yet it's in the details of the extended gags that What We Do in the Shadows finds some of its richest comedy, tinkering with the well-worn peculiarities of ye-old vampire mythos. There's great fun in watching this trio get ready for a night out on the town. Vampires don't have reflections, so they rely on flatmate opinion and interpretive illustrations to gauge how they look. Vampires also must be invited inside places when they venture out, a complication when trying to get in to the hottest Wellington clubs. The gang also has a long-running feud with the werewolves that lurk around Wellington (which prompts probably the best single quote of the film: "We're Werewolves, not Swear-Wolves.") Everything is silly, but the best spikes of the film are blissfully weird and unexpected non-sequiturs.
Which goes a long way in marking What We Do in the Shadows as a pleasing diversion and an easy sit, if not exactly the instant cult favorite the filmmakers appear to be hoping for. Once we get the Unholy Masquerade Ball, the raison d'etre according to the opening title cards, the comedy seems to run out of gas, which may ignite a plea of what exactly the point is supposed to be. Waititi and Clement may not have an answer to that question, but at least they do have a lot of fun not answering.
The Verdict: 3 out of 5
An amiable comedy with some inspired bits of Dadaist humor that's well performed by an ensemble clearly having a ball spending time with one another. What We Do in the Shadows is well made and features some inspired low-fi effects and production elements (all the more admirable considering it all must of have been done a shoestring budget), but may have been a better construction as a short film instead of a full-length feature. While a pleasurable watch, the film is all mostly all dressed up with no place to go.