Disaster films are among my favorite genre to watch, the more ridiculous they are, the more I seem to enjoy them. When you think of a title called The Hurricane Heist, these words may flow through your mind: insane, over-the-top and completely implausible. Director Rob Cohen (The Fast and the Furious) brings a heist movie and for good measure throws in a Category 5 hurricane in the mix. The result is a movie that garners laughs, the audience shaking their heads in bewilderment and to my surprise, a somewhat entertaining piece of work. It certainly isn't memorable or the best action movie in recent times, but The Hurricane Heist is ridiculous in its own way, and if you watch it with that in mind, you just may find yourself smiling at times.
Alabama is facing a devastating storm that Meteorologist Will (Toby Kebbell) describes as "a storm unlike anything we've ever seen." Let's not forget a Mint facility that houses millions of dollars, is under threat of being robbed. The money there goes through a shredder after being taken out of circulation, so in a sense, the money is untraceable and no one will know it's missing. It's the perfect target for a group of well-armed mercenaries who risk their lives to go after all that green.
Casey (Maggie Grace) is a Treasury Agent assigned to remove the money from the facility before the storm hits. Well, plans have changed and that pesky hurricane is arriving earlier than expected. During the runtime we see people shooting at each other while dodging debris hurled from the storm, a car chase, and moments of reflection all while hell outside is unleashed. Other characters include Breeze (Ryan Kwanten) who is Will's brother. He's an ex-marine who also repairs mechanical equipment who is brought into the Mint Facility after things break down.
It's nice to see Maggie Grace play a strong female character instead of the damsel-in-distress in Taken. Here, she's good with a gun and cracks smart-ass comments when need be. I also enjoy how characters are able to fight it out while the storm is raging outside. It seems that the storm is aware of all this and chooses to not kill everyone as nature would in reality. And how about a group of semi-trucks who are able to outrun this storm!? Truck drivers would sure earn their money if they were able to travel at those speeds!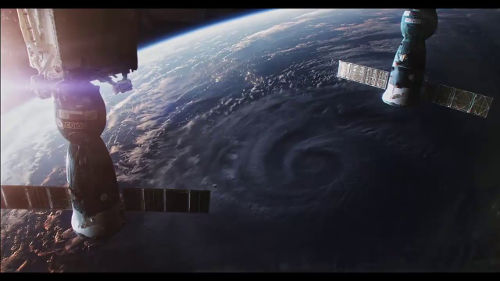 Verdict 3.5 out 5
The Hurricane Heist is a combination mix of Twister and Hard Rain. I like the premise and the special effects aren't that bad. It's entertaining for what it is, but don't think too much about it. It's goofy and over-the-top but shouldn't you expect that when you buy your ticket. I liked this better than last year's Geostorm, as at least this movie has some action in it. The Hurricane Heist is completely bonkers, and yet I enjoyed the goofiness that encompassed it, but for everyone else, it might be better to avoid this Category 5 disaster.