History is always a fascinating ordeal. When one looks at the Cuban Missile Crisis at first glance it would appear that it was a work of fiction. Certainly nothing of this caliber could have ever happened. In truth, it did and it was quite a shock to the world. The Courier takes the audience on a journey that delves deeply into how this crisis was uncovered and what the consequences were in obtaining such information. Part spy movie, part historical drama and the result is a gripping, exhilarating experience complete with fine acting, a smart, intelligent script and a wonderful direction from renowned theater director Dominic Cooke.
It's 1960. The war in Europe has been long over but something anew is brewing. The threat of nuclear war is on every news broadcast, newspaper and even the main topic of conversation among the world's government. The United States was the first to obtain the ingredients necessary to design and manufacture the atomic bomb and now the Soviet Union is picking up the pace. Nikita Khrushhev is leading the charge and someone within the realms of the Soviet government is leaking information to a foreign agent. This leads to a startling true story that isn't all about spy stuff, but also the forming of a friendship that was achieved in the unlikeliest of scenarios.
It's revealed that Oleg Penkovsky (Merab Ninidze), a colonel of the GRU (Main Intelligence Directorate) is worried about the future and decides to knowingly betray his country and seek the assistance of a foreign nation to provide intelligence. British Intelligence, or better known as MI6, responds to Penkovsky's request. MI6 figures that they can't send any officer to the Soviet Union as that would draw suspicion and seek out a different strategy. They seek the assistance and later recruit a salesman by the name of Greville Wynne (Benedict Cumberbatch). They are aware that he often travels for work and hardly stays local in London. MI6 figures that his job would be the perfect cover in order for him to obtain information from Penkovsky so that Wynne can act as a courier to transport sensitive information back to British Intelligence which will in turn provide to the Americans.
As you can imagine, Wynne is initially apprehensive regarding this proposal especially given the fact that he isn't given the full scope of his assignment. He basically traveling to Moscow blind in the hopes that nothing will happen to him. The very idea of this is enough to make him sweat and make us wonder how he's going to pull this off. Sure enough, Wynne arrives in Moscow under the guise of being a salesman (which he actually is) and meets with several prominent figures to discuss business. Oleg is part of the group and later sees something that lets him know that Wynne is his contact. What transpires is a series of meetings, business dealings, lunches, visits to the theater all the while Oleg is smuggling classified information regarding the nuclear problems of his Soviet comrades. If he or Wynne are caught by the KGB, it is guaranteed that they will be killed.
Outside of all the spying, sneaking around and hoping that neither man will be exposed, The Courier takes it's time to develop the professional relationship as well as the ensuing friendship that these two men end up sharing. They each trust each other and now what is at stake. With one betraying his government while the other is always away on business leaving his wife Shelia (Jessie Buckley) to become suspicious that her husband is having an affair (something he's done before). Both Wynne and Penkovsky don't inform their families of what they are doing. That involves the risk of them becoming a target as well. We understand that Wynne is understand constant watch from his contact within MI6 which includes CIA officer Emily Donovan (Rachel Brosnahan). There's one pivotal moment where Penkovsky informs Wynne to assume that no matter where they are or who is around them, to assume that they are with the KGB. This takes a physical and emotional toll on Wynne later on the more he travels to the Soviet Union.
I won't give much away but if you fancy a good spy thriller that is also very informative regarding historical events, then The Courier is a sure winner. Both Cumberbatch and Ninidze are magnificent together and the more I watch, the more I felt that these were real characters and not just actors. The atmosphere is intense especially when we are wondering who is with the KGB and how safe are these two men who are risking their very lives in the pursuit of securing a future of peace in the age of a nuclear arms race. The only issue that I have with the film is that it does end rather abruptly which can be somewhat disappointing. Nevertheless, The Courier is a real treat for fans of this specific genre.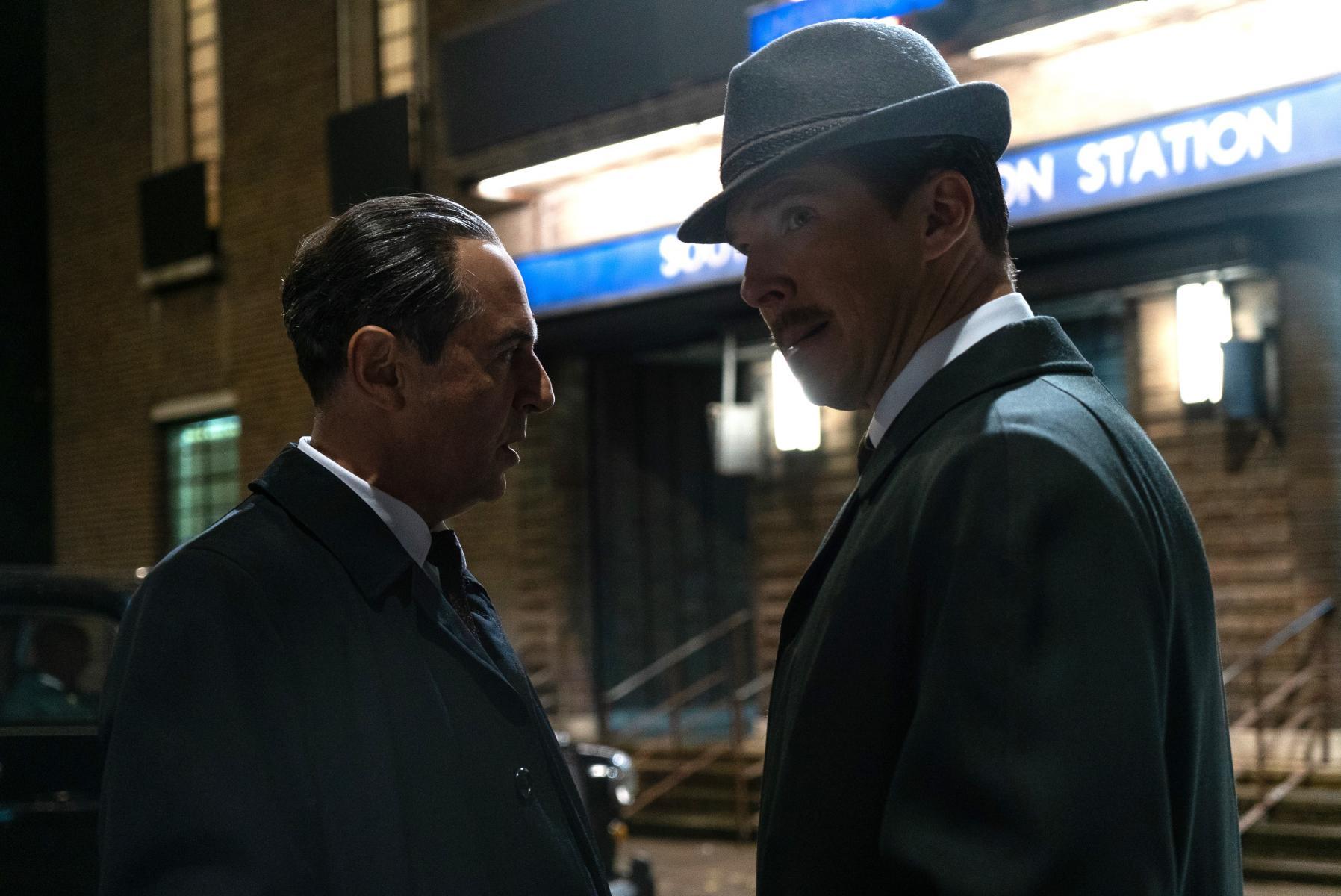 Score: 4.5 out of 5 Stars
If you're looking for a movie that will capture your attention very quickly, then I highly urge you to not miss The Courier. This is a well-acted, intelligently written and exquisite suspense movie that also educates us on how a crisis of epic proportions was thwarted in ways that no one could've anticipated. From the excellent direction from Dominic Cooke and the exciting soundtrack by Abel Korzeniowski, The Courier is a wonderful treat for movie-goers and film buffs. A special nod to Tom O'Connor and his fascinating script which is never boring and when the film is over, you'll walk away with plenty on your mind. The Courier is one of the most exciting movies I've seen this year and I'll bet that once you see this movie, you'll be moved in more ways than even you might expect.