Imagine traveling to space for the first time. The overall thrill, the excitement and perhaps the tingling you feel in your fingers, but still you're in outer space! Now, imagine that when you return to Earth, you've brought back something with you, something not native to this world. The very idea of alien lifeforms attacking astronauts is nothing new, however, there are some select titles that do make that genre cliché something of interest and Sputnik, a Russian film, is a new entry in the science fiction genre that features some unexpected surprises and makes for a very unique experience.
It's 1983 in Soviet Russia. The end of the Cold War is on the horizon and even then the Soviets are quick to respond to the perils of the unknown. During what appears to be a routine space mission, two cosmonauts are finishing up their orbital research mission when something swoops across one of the windows in their space pod. Upon landing back on Earth in Soviet Kazakhstan, it's revealed that one of the cosmonauts is dead and one is seriously ill from the looks of it. Following the crash, the movie's main focus is shifted to an isolated military facility where the surviving cosmonaut Konstatin (Pyotr Fyodorov) is being kept separate from everyone else. He isn't given any information as to what is happening and his memory of what happened following the completion of his mission is a blank at best.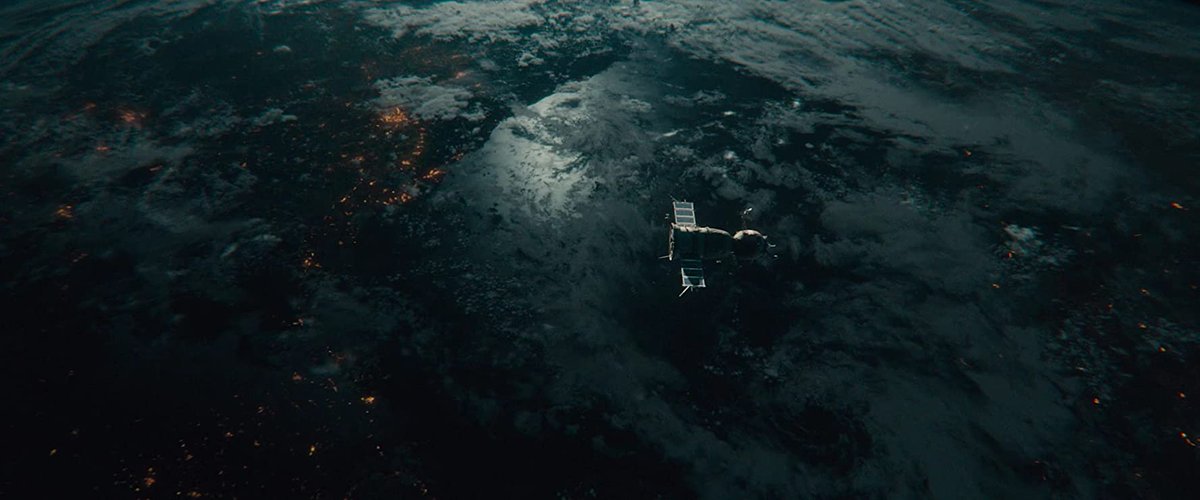 Tatyana Yuryevna (Oskana Akinshina), a neurophysiologist is brought in at the behest of Colonel Semiradov (Fyodor Bondarchuk). He wants her input on the developing situation that by all accounts appears to be a cosmonaut suffering from PTSD. She too, isn't given the full story until she pressures the Colonel as to what the reason is for her being brought to this isolated facility. It's revealed that Konstatin was infected with some sort of alien life form. It's using his body in the same respects as a host but instead of Konstatin dying when the creature comes to life, it merely acts as a symbiote.
It's during the early morning hours does the alien life form show itself. Konstatin literally retches the creatures up from his stomach which allows the creature to roam freely. Of course, action has been taken and the creature is locked away inside a room secured by a large glass door. The Colonel wants to study the creature and understand how it acts and what it's capable of. During all of this Tatyana and Konstatin shares one hour sessions together where many questions are posed and together they form a close bond. Not so much as a relationship but one in which they need to understand each other in order to work to solve the overall problem. It's here that is the heart of the story.
Sputnik does features some impressive special effects and even looking at the creature itself sparks intrigue, mystery and even fear itself. This isn't one of those movies where the creature breaks out and one-by-one kills people off down dark hallways. This movie is intelligent, suspenseful and at its very core, is a story of understanding and the relationship between the doctor and her patient. I also enjoyed viewing the Soviet era designs of the buildings, the bland colors of paint on the walls, and the need to keep misinformation a top priority among the military and scientific personnel. I was thoroughly entertained by the level of attention to detail and character development in a film that could've easily fallen into the sci-fi monster cliché.
Score 4 out of 5
I will admit that Sputnik is a peculiar title but nonetheless is a solid sci-fi horror film that features more brains than cheap thrills. Sure, there is some bloody violence here and there but it's a real treat to see a movie where the script allowed the development of all the central characters instead of resorting to cliché territory. I was deeply invested in all the characters and the subsequent fates that awaited them towards the end of the film. While it may borrow inspiration from countless sci-fi films such as Alien, Life (2017), and even Venom in some respects, Sputnik feels like a movie that attempted to be something truly unique, an original idea. I have to give a lot of credit to the intelligent script and the direction of Egor Abramenko, in his directorial debut. If you love science fiction, then put this on your list to not miss.